Imagine a world flipped like a mirror. Women are men. The patriarchy as a matriarchy. That is exactly what Justin Audibert's RSC Taming of the Shrew, currently on at the Royal Shakespeare Theatre, offers. What today is an uncomfortable play about gender roles and materialism, has been twisted into a truly modern reflection. Where Shakespeare addresses political concerns by setting them safely in Italy, Denmark, or even Scotland, Audibert challenges today's gender preconceptions by setting The Taming of the Shrew in the Elizabethan period. No only has he created a production with numerous dynamic female roles, but revitalised a play that teaches women to obey their 'superior' husbands; by teaching husbands to obey their wives as counter-argument. This comes with As You Like It's openness with sexuality, and contributes to modern representation. It was also pleasing to see both deaf and disabled actors have visible roles.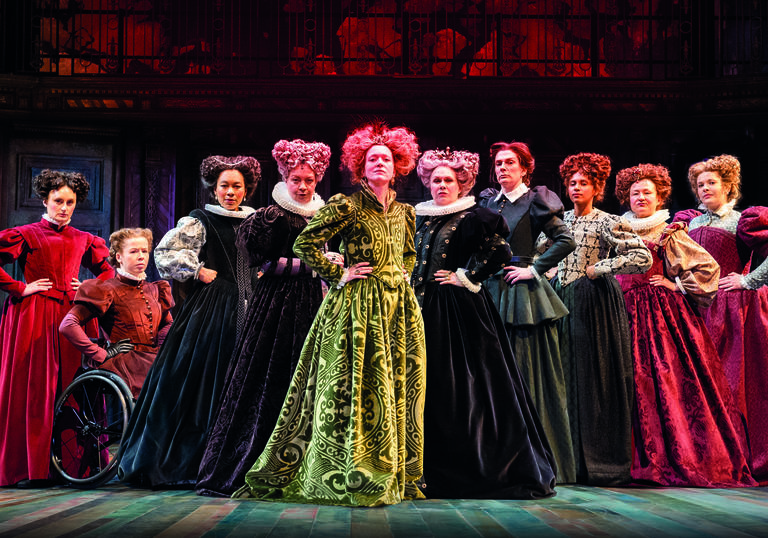 With Claire Price as a beautifully messy haired and quirky 'Petruchia', and a near silent but present Joseph Arkley as Katherine, the play provoked a real sense of internal questioning for me. What begins as a love story between 'Bianco' (James Cooney) and 'Lucentia' (Emily Johnstone), twists to protangonists (or perhaps antagonists), Petruchia and Katherine. Their battle of wits becomes an ideal to aspire towards in the play. This uncomfortable notion has a strong flavour of unspoken dramatic irony as the play has an almost silent male voice: Whilst Grumio is expertly played by Richard Clews, he is still an underlying character subdued by the flambouyant Petruchia.
The male suitors all had long, silky hair – with many camp hair flicks appreciated by the audience – whilst the females had their curls pinned into crowns. A strong sense of identity came with clothing: men having typically floral attire, women using their colours to reiterate their identity and presence: Petruchia's menacing green; Lucentia's bold reds; Bapista's powerful black. But the vivid presences added to the comedic nature of the play, Sophie Stanton's 'Gremia' expertly gliding across the stage, dalek-like.
Once again, I find myself recommending this RSC production to you, which runs at Stratford-upon-Avon until August 31st 2019, until it tours in various places. It was a thoroughly illuminating experience and something I was and still am contemplating over: but where better to consider Shakespeare's works than surrounded by his birthplace? Stratford never fails to be a vibrant day out!